How Do You Feel On Sunday Night?
Knowing when and how to change careers
"You're in the right job," it's been said, "if your Sunday nights feel like your Friday nights."
If this quote fills your head with thoughts of the vast and cavernous difference between your experience of Sunday and Friday nights, it may be time for a change. And while the idea of switching careers or applying for your dream job might sound overwhelming, it doesn't have to be.
Resumes: A Brave New World
Gone are the days when a typed up list of your jobs and education cuts it as a resume. Today's employers often use software to sort your resume by keywords, and resumes that don't use the language the employer is seeking may not even be read by a real person.
Beyond that, there are lots of thing to consider:
Type of resume: Do I use a chronological resume or a functional one? Would a combination resume be better for me?
Sections to include: Is the Objective statement really passé now? How about a Summary? Do I include references or just mention that I have them? And what about Highlights?
Formatting: Do I have to keep it to one page? What font, size, and line spacing makes the best impression? Do I use color judiciously, or not at all?
Cover letters: How do I use a cover letter to stand out and get the employer's attention?
When it comes to resumes, it is indeed a brave new world, but you don't have to make your way through it alone. You can dramatically reduce the amount of time and stress that go into your resume, and greatly improve your chances at landing an interview, by taking advantage of the wealth of information available to you, often for free or a very low cost.
For a short and free resource, check out 10 Ways to Up Your Resume Game When Changing Careers. For more detailed information, or help writing your resume, contact Marissa Polselli at wordtree.net, call 484-451-8111, or email contact@wordtree.net.
Knowledge is power
OK, so you've learned about resumes, but the most basic question is still unanswered: What kind of job should you apply for?
What type of work suits you best? What career field would give you the greatest opportunities for happiness and the successful utilization of your skills?
And once you know the field or type of job, how do you know a particular employer will be a good fit for you?
And when you get an interview, how do you read the person across the desk from you, so that your interaction goes as smoothly as possible, and your communication is as effective as possible?
Help is available here too. The key is understanding that every person has a unique personality, and the way any person acts and reacts stems from certain motivating factors. You may have heard of different personality tests that shed light on what makes a person tick. Some of these tests are more complicated than others, but one system that breaks it down into four easy to understand motivators is DISC.
The DISC assessment is widely used to help people understand the degree to which each of these four characteristics drive their behavior: dominant, inspiring, supportive, and cautious.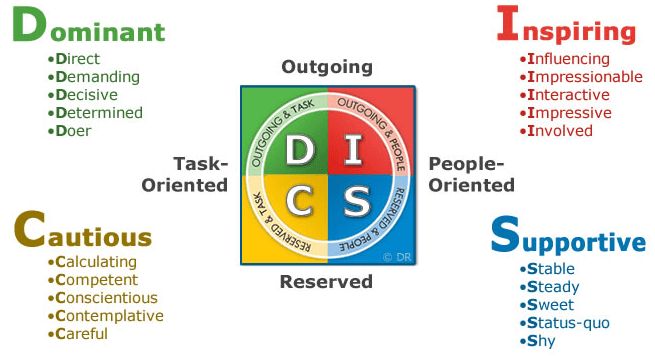 Once you know where you fall in this spectrum, you'll have a better understanding of yourself and what type of work would best suit you. You'll be able to look at the culture of a company and get a feel for where they are in this model, and whether the working environment there would be a good match for you. And you'll be able to get a better read on the people you interact with (including prospective employers in an interview), so that you can communicate with them more effectively.
Knowledge is power, and if you want to bring that power to your desire for career change, KMM DISC Consulting can help. You can find them at kmmdisc.com, or contact Kathy Marcino at 215-327-0054 or kathy@kmmdisc.com.